Alabama Steel Supply, Inc.
METAL ROOFING
Alabama Steel Supply, Inc. can provide the highest quality of metal roofing that you need to replace your existing roof with one made of attractive, long-lasting metal that will provide reliable service for decades. We are the manufacturer! Therefore, we are able to satisfy the custom needs of each individual customer. Your new metal roof from Alabama Steel Supply, Inc. will provide your home or business with better protection from the elements and reduce fire hazards. Not to mention, it will have the long lasting beauty that only a metal roof can provide!
We have a wide variety of panels that can be used for metal roofing, commercial buildings, residential buildings, pole barns, utility buildings, or anything else to fulfill your metal roofing needs.
Our metal roofing is available in many different colors, as well as galvalume. Our standard thicknesses are 26 gauge or 29 gauge. Alabama Steel Supply, Inc. also manufacturers and stocks any type of trim that you may need. This means we can even custom produce trim for special needs!
PBR PANEL
EAGLE RIB
STEEL LOCK
5V CRIMP
CORRUGRATED
Multirib
Decra
PBR PANEL
⦿ Coverage Width = 36″
⦿ PBR panel is a through-fastened panel.
⦿ PBR is a structural roof & wall panel. This can be installed directly over purlins or joists.
⦿ Gauge: 26 gauge (standard), 24 gauge available
⦿ Coatings: Siliconized Polyester Paint or Acrylic Coated Bare
⦿ Reverse Rolled is an option for this panel to give an architectural look for a wall panel.
EAGLE RIB
STEEL LOCK
5V CRIMP
CORRUGRATED
Multirib
Decra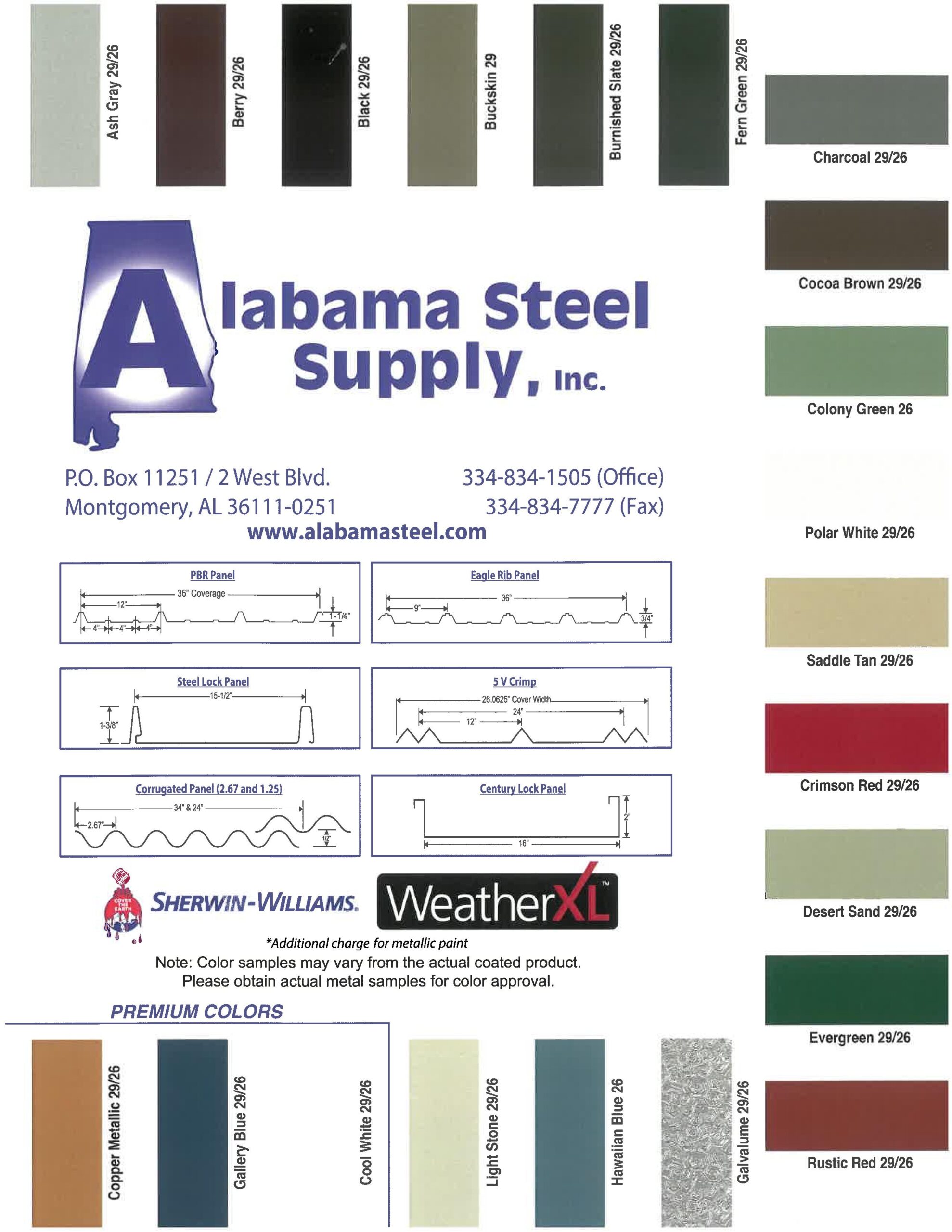 Frequently Asked Questions (FAQS)