Alabama Steel Supply, Inc.
METAL BUILDINGS
Alabama Steel Supply, Inc.'s pre-engineered metal buildings, tubular metal buildings, custom carports, and pole barns are designed and manufactured with quality, cost, ease of installation, and durability in mind. We are proud of the quality metal buildings that we produce as well as the exceptional customer service we provide. Alabama Steel's sales team will be working closely with you every step of the way to ensure your utmost satisfaction with your new metal building.
Our wide variety of metal buildings can be customized to fulfill your needs. From open bays to special shapes to changes in elevation, we will do our best to make your metal building dreams come true. Our metal buildings can be used for commercial, industrial, agriculture, or residential applications as well as barns, machinery sheds, utility buildings, storage units, restaurants, retail stores, office developments, warehouses, or anything else you can think of!
Alabama Steel Supply metal buildings are designed to meet the building code requirements for their specific locations. Whether you use a contractor or build it yourself, our metal buildings assemble smoothly and efficiently. With a wide variety of colors available, you can choose any color combination for side panels, roof panels, and trim to create a truly unique, customized structure. Thank you for choosing Alabama Steel Supply, Inc. for your metal building needs.
Ready to get started? Click here to tell us about your project and allow our team to bring your design into reality.
Whether you need a steel building for a commercial office building, strip mall, retail space, store front, metal warehouse space or residential needs, we have the right building system for you. Alabama Steel Supply can custom design a pre-engineered metal building for virtually any application.
Our pole barns are built for strength and ease of installations. We combine wood and steel to create an economical and useful solution for your storage needs. Pole barn trusses are used in a barn structure, usually for an agricultural purpose, or for a home storage and/or workshop building. Normally, they have a metal roofing system supported by purlins between trusses, instead of plywood and shingles, like residential construction.
A barndominium is a unique residential structure that combines the rustic charm of a barn with the comfort and functionality of a traditional home. It blends the best of both worlds, offering a distinctive living space that captures the essence of rural living while providing the modern amenities desired by contemporary homeowners.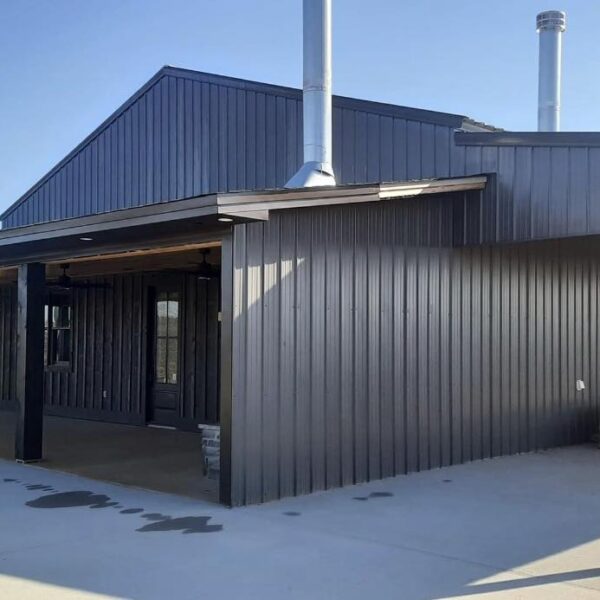 Versatility: Barndominiums are incredibly versatile, allowing you to customize the space according to your needs and preferences. The wide, open floor plans provide ample room for creativity, enabling you to create the perfect living environment for your unique lifestyle. Whether you envision an open-concept loft or multiple bedrooms and entertainment areas, a barndominium offers endless possibilities.

Affordability: Compared to traditional homes, barndominiums often provide a more cost-effective option. The combination of a sturdy metal or steel structure, typically used for the barn-like exterior, with the practicality of a residential space, can lead to significant savings in construction costs. This affordability allows you to allocate your budget towards other important aspects of your life, such as furnishing, landscaping, or pursuing your passions.

Durability and Low Maintenance: Barndominiums are built to last. The use of durable materials like metal or steel for the exterior ensures excellent structural integrity and protection against the elements. These materials are known for their resistance to fire, pests, and rot, reducing the need for extensive maintenance over time. With a barndominium, you can enjoy the peace of mind that comes with a low-maintenance home.
We invite you to explore our website further to discover inspiring examples of barndominium designs, learn about the customization options available, and find resources to help you make an informed decision. 
If you are interested in building a barndominium, please click here to get a quote!
Our galvanized tubing frame custom carports can be designed as both open and closed structures. They can be used to protect motor homes, recreational vehicles, boats, farm equipment, or as general carport / storage areas. These custom metal structures are built to your personal design specifications and are economical to install.
frequently asked questions (FAQs)